Welcome to
HORIZON ADVENTURE FARM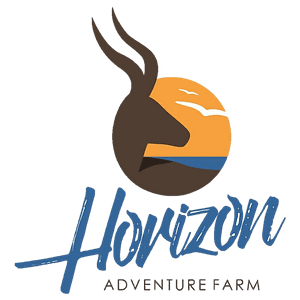 Horizon Adventure Farm offers a unique environment for various activities, our guests are able to hunt under supervision on our property, which is open to everyone from all ages. Perfectly suited for all your family's requirements, our guests cannot but enjoy Horizon view's wide variety of accommodation. We provide a safe and fun atmosphere for paintball enthusiasts all over. View our gallery and see what has been happening at on the farm.
My oldest son, Casper, was about 2 years old when he went hunting with me for the first time in the mountains near Sun City. He just started talking and was eager to hunt.

Seeing that it was winter and very cold in the mountains his mom bought him a hunting jacket. It was then when he asked her if this was his "Jag-se-baadjie" (Hunting jacket), on which she replied, yes my son.

6 Months later, when I bought the farm, situated on the farm Syferfontein, 451 JP, we had not decided on a name yet. On our first visit to the farm, driving up a small dirt road to the old farm house my son jumped up from the back seat, asking me if this is "Jag-se-Plaas", now known as Horizon Adventure Farm.

The farm has now been christened – "Horizon Adventure Farm"
FARM PROPERTY INFORMATION
305 Hectares
9 Fountains
2Km River Front
5 Dams
3 Boreholes
35 000 Lt/Hr (Electric Borehole pump),
8000 Lt/Hr (Windmill), 55 000 Lt/Hr (Electric Borehole pump).
Fence
2.4 m Game Fence with Electric Fences around Farm,
2.4m Welded Mesh fence around yard.
Antelope
Blesbuck, Blesbuck White, Kudu, Eland, Waterbuck, Impala, Redhartbees, Gemsbok, Njalas, Sable, Zebra, Fellow Deer, Water Buffalo, Giraffe, Ostrich.
Paving on Yard Roads and Parking Areas, Yard Areas with Grass and sprinkler systems, Fenced Vegetable Garden, Gravel roads on Farm with Fire Breaks, Biodiversity consist of open veldt, Valleys, Trees and Caves.
Experience Horizon Adventure Farm
Hunting is open to everyone from all ages on our property, under supervision at all times. 
On arrival, the camp opens at 13h00 pm and is to be evacuated by 11h00 am on the day of departure unless otherwise arranged, during hunting seasons. 
Hunting and game viewing rules and regulations need to be adhered to by order of management.
RESTAURANT AND BAR FACILITIES
Suitable for Conferences, Team Building, Weddings, Birthdays and all other functions.
GUEST LODGE (FLINTSTONE)

PROFESSIONAL HUNTERS HOUSE

HOENDER HOK

LODGE

MAIN HOUSE
SCHOOLS AND OTHER GROUPS FOR CAMPS AND EXCURSIONS
Conferences, Team Building, Weddings, Birthdays and all other functions.
Bring the family to experience what Horizon Adventure Farm has to offer!
Complete the form below and we will contact you ASAP!
Contact us on:
082 210 8956 bookings@horizonadventurefarm.co.za
Horizon Adventure Farm GPS Coordinates:
Syferfontein Noord-Wes 25⁰ 47'21.9"S 26⁰ 31'17.1"E